A Col­lab­o­ra­tive Ini­tia­tive by the C.E.U. and the 
CNU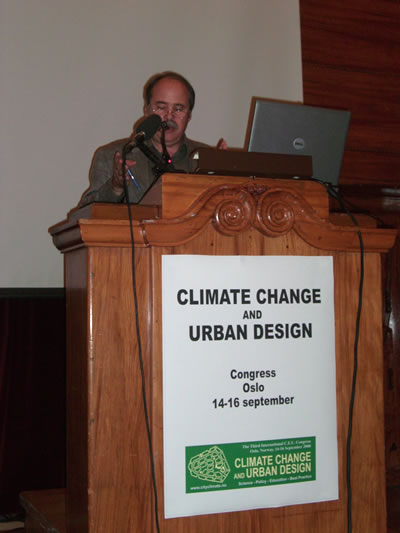 The "Oslo-Denver-Initiative" (ODI) is a joint ini­tia­tive of C.E.U. and CNU that is aimed at pro­mot­ing prac­ti­cal mea­sures in urban and regional devel­op­ment to reduce the effects of cli­mate change.
On the occa­sion of the Inter­na­tional Con­gress of the C.E.U. "Urban Design and Cli­mate Change" to be held in Oslo in Sep­tem­ber, 2008, the Coun­cil for Euro­pean Urban­ism (C.E.U.) and the Con­gress of the New Urban­ism (CNU) are start­ing a joint ini­tia­tive in transat­lantic co-operation to pro­mote prac­ti­cal mea­sures in urban and regional devel­op­ment to coun­ter­act cli­mate change. The foun­da­tional process for this ini­tia­tive will be com­pleted at the CNU Con­gress to be held in Den­ver in June, 2009.
We believe that Euro­peans and Amer­i­cans have a spe­cial respon­si­bil­ity with regard to cli­mate change and should be the first to con­cen­trate their efforts on under­tak­ing effec­tive steps in the field of urban and regional devel­op­ment against cli­mate change. Nonethe­less, this ini­tia­tive is open to all inter­ested par­ties and is not restricted to Euro­pean / United States partners.
A dou­ble strat­egy is con­tem­plated: the reduc­tion of exist­ing man-made cli­matic effects in urban regions, and the pre­ven­tion of fur­ther cli­mate change by urban regional plan­ning and con­trol. The spon­sors are aware that Europe and the United States are impor­tant indus­trial regions that con­tribute in sig­nif­i­cant ways to cli­mate change. On the other hand, both Europe and the United States  have already ini­ti­ated a long list of mea­sures to com­bat cli­mate change. The con­se­quences of cli­mate change also have a large impact on cities and regions that are? only min­i­mally respon­si­ble for man-made cli­mate change. That is why these regions are invited to take part in this ini­tia­tive. Truly effec­tive steps can only be ini­ti­ated in a world-wide dia­logue. Around the world there are many ini­tia­tives deal­ing with cli­mate change, but only a few of them deal explic­itly with this sub­ject from the point of view of urban and regional development.
Global cli­mate change, with its social, eco­nomic, cul­tural and eco­log­i­cal dimen­sions, is one of the prin­ci­pal chal­lenges fac­ing human­ity in the 21 cen­tury. As the major­ity of peo­ple live in cities, urban­ized and sub­ur­ban­ized regions, which tend to increase cli­mate change by gen­er­at­ing car­bon diox­ide, and are thus located in cli­mac­tic "dan­ger zones," it is cru­cial that cities and regions be on the front line of cli­mate pro­tec­tion and the pre­ven­tion of fur­ther dam­age. Many attempts have already been made in this direction.
How­ever, we are still at the begin­ning. There is still a great defi­ciency in the areas of urban design, urban and regional plan­ning and the con­trol of urban and regional devel­op­ment. As for the ener­getic reor­ga­ni­za­tion of city regions, the cre­ation of com­pact, de-centralized hous­ing spaces, the com­plex eco­nom­i­cal han­dling of resources or the min­i­miza­tion of auto-dependency — all these approaches are prac­ti­cal require­ments in future urban development.
The Oslo-Denver-Initiative will iden­tify New Urban­ist tools, tech­niques, and mod­els as a response to the dual chal­lenges of Cli­mate Change and Fuel Sup­ply It is formed in the spirit of the ini­tia­tive for a "Sus­tain­able Devel­op­ment" that was started 20 years ago in Oslo with the "Brundt­land Report".
Much effort is being spent on find­ing alter­na­tive tech­ni­cal solu­tions to these chal­lenges, but our focus will be on urban­ism. Our goal is to find ways of cre­at­ing beau­ti­ful, sus­tain­able neigh­bour­hoods,  cities, and regions, that not only reduce energy use and cli­mate impact, but also enhance the qual­ity of life.
Each side of the Atlantic brings dif­fer­ent expe­ri­ences, tra­di­tions, and prob­lems. Through a cre­ative exchange of analy­ses, tech­niques, con­cepts, tools, and mod­els, we hope to develop new solutions.
We sug­gest the fol­low­ing Actions:
To Pro­vide a vehi­cle for the exchange of new prac­ti­cal expe­ri­ences, meth­ods and knowledge,
To Ini­ti­ate part­ner­ships of var­i­ous insti­tu­tions, organ­i­sa­tions and participants,
To Report the prac­ti­cal results of con­crete mea­sures so that they can be discussed,
To Include politi­cians and lobby rep­re­sen­ta­tives and to sen­si­tise them for the neces­sity of urban­is­tic approaches,
To Ini­ti­ate and Sup­port con­crete projects and mea­sures with model character.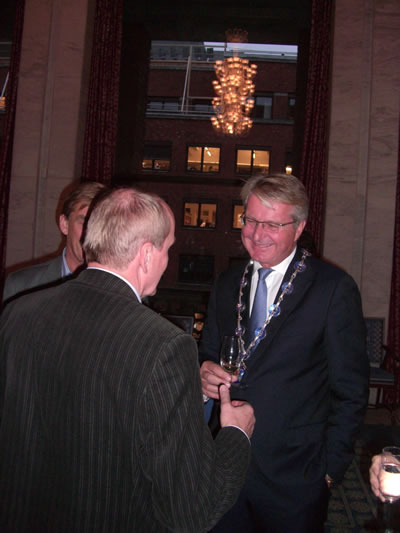 We Sug­gest the fol­low­ing Top­ics as a (first) focus of this effort:
1. Sus­tain­able Regions and Tran­sit: The tra­di­tional forms of regions with a col­lec­tion of com­pact set­tle­ments, mixed use devel­op­ment pat­terns, linked by tran­sit, con­nected to other regions by long dis­tance rail, and set in an agri­cul­tural hin­ter­land for local food pro­duc­tions pro­vide a use­ful model to be tested. In some areas, the essen­tial ele­ments have been under­used or even aban­doned. In  oth­ers, they do not exist or are just being cre­ated. The goal would be to iden­tify the essen­tial attrib­utes, iden­tify obsta­cles to their full use, and pro­vid­ing exam­ples of suc­cess­ful mod­els. Exam­ples would include tra­di­tional ones that are suc­cess­ful, exist­ing ones with prob­lems, and new ones.
2. Com­pact Devel­op­ment Pat­terns: Hous­ing and neigh­bor­hood pat­terns in the US are less dense than in Europe. Even the recent return to urban liv­ing has only slightly dimin­ished the empha­sis on sub­ur­ban sprawl. Live­able com­pact devel­op­ment mod­els need to be devel­oped for fam­ily liv­ing as well as the types cur­rently found in city cen­ters. Inter­na­tional col­lab­o­ra­tions among New Urban­ists has pro­vided new ideas and mod­els. The goal would be to iden­tify mod­els, define their attrib­utes, and their con­tri­bu­tion to reduc­tion car­bon pro­duc­tion and cli­mate impact.
NEXT STEPS: In the period between Sep­tem­ber 2008 and June 2009 all inter­ested par­ties are invited to par­tic­i­pate in the for­ma­tion and orga­ni­za­tion of this ini­tia­tive. We rec­om­mend estab­lish­ing a small work­ing task force on both sides of the Atlantic. Dur­ing this time, C.E.U. and CNU will estab­lish the pre­con­di­tions for work­ing effec­tively and facil­i­tat­ing the effec­tive­ness of "ODI". Please address sug­ges­tions for par­tic­i­pa­tion and con­crete orga­ni­za­tional pro­pos­als to: Har­ald Kegler, Chair C.E.U. Ray Gin­droz, Chair CNU
Sug­ges­tion, 2008-08-28: Har­ald Kegler, amended 2008-09-08, started: 2008-09-16 in Oslo, Norway